Dethdlr's Dungeon: EQ2's Endgame Downfall – Critical Mitigation
Editor's Note
: A week ago,
Dethdlr
sent me a draft of an article that he had the intention of posting to EQ2Wire at some point in the future. It hasn't been polished or edited. But in light of today's announcement, it's timely and provides an interesting contrast to
my article
.

For many years in EQ2, I was a casual raider.  What I mean by that is, I would primarily run group zones with guild mates but from time to time I would join a pickup raid or tag along when another guild needed to fill some raid slots.  Several times, when filling those empty raid slots for other guilds, myself and some of my guild mates were asked if we would be interested in coming along on a regular basis.  In one of those cases, I even worked my way up to being one of the raid leaders even though I was in a different guild.
The reason myself and some of my guild mates were able to do this is because we like being good at our characters.  We try to get whichever upgrades we can from instances, quests, faction merchants, etc.  We make sure all our spells/CAs are Expert or above.  We make sure our items are adorned.  We try to come up with the best AA spec we can and consult with each other to try and be as good a player as possible.
When we were asked along on raids, quite often we would out-parse a lot of the regular raiders.  Back when I was playing my Assassin, I had two other raiding assassins sending me in-game mail messages asking for advice on how to up their DPS since I had soundly trounced them on the parse from group 4 (traditionally the "leftover" group).
Then came Sentinel's Fate and Critical Mitigation.  With the introduction of Crit Mit, a barrier was put in place for raiding.  Now, in front of every raid zone, there was a sign that said "You must have at least this much Crit Mit to ride this ride."   I tagged along on a  raid or two a few months before Destiny of Velious came out.  If I didn't get hit, I was either first or second on the parse.  But because I didn't have the right Crit Mit, if I *did* get hit, I was pretty much one-shotted.  Not fun.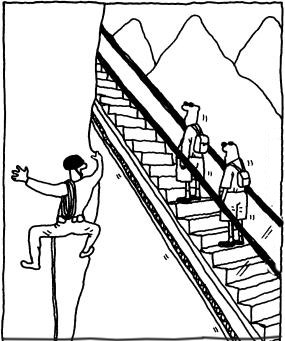 With Destiny of Velious, they made it even worse.  Not only do you have to have the right Crit Mit to keep from dying, you also had to have the right Crit Chance to make sure you can live up to your full potential.
It used to be that the reason you didn't take a non-raider along on a raid was because they didn't know what they were doing, couldn't play their class well, or couldn't do the DPS or healing job that a raider could.  Now, those things don't matter if you don't have the Crit Mit or Crit Chance for the zone.  It doesn't matter how good you are at your class, if you don't have the Crit Mit or Crit Chance, you're useless.
Lets take two assassins.
The first one, an average player in raid gear.  The second one, an exceptional player in instance gear.  Take them both and put them up against a training dummy and the second one beats the first one on the parse.  Take them both and put them in certain raid zones and the first one will wipe the walls with the second one.  Why?  The second one is the better player.
On an equal playing field, the second one can out DPS the first one even though they are wearing worse gear.  But move them into a raid zone and those two little stats, crit mit and crit chance, will take that exceptional player and make them look like an amateur.  Why?  What did this add to the game?  Nothing.  Some unimaginative developer/designer a few years ago decided that further segregating the raiders from the rest was a good idea for some reason.  Either that or they didn't even consider the implications on non-raiders which is even worse.
Before Sentinel's Fate, you would see people looking in channels for certain classes when they needed to fill empty slots in their raids.  Now, those same messages come with a crit mit requirement that few instance runners can meet.  It really is a shame.
Tags: critical mitigation
Trackback from your site.