Introducing EQ2 LaunchPad 4 — Replaces All Other EQ2 Launchers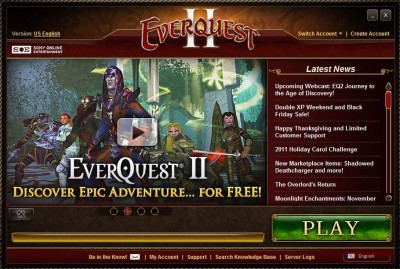 Starting on Wednesday, November 30th Thursday, December 1st the following launchers/launchpads/patchers will no longer update EQ2 but instead automagically update themselves to Launchpad 4:
Original EQ2.exe (Retail Launcher)
Station Launcher (multi-game launcher)
EQ2 Streaming Launcher (LP3 Streaming)
EQ2 Launchpad 3 (LP3 Full)
From SmokeJumper on the EQ2 Forums:
Hi folks,

As you know, there's a ton of new stuff coming to you soon. And soon starts now!

The first step is a LaunchPad upgrade. Starting on Wednesday (November 30, 2011) Thursday December 1st, LaunchPad will be updated automatically for you when you log in. We're doing it now so it's out of the way and not an issue before we launch GU 62 ("Freeport Reborn") and the new expansion, "Age of Discovery."
There are a number of improvements in this version of our launcher:

It no longer requires a Flash installation.
Much faster patching speed (as much as 10X faster if you're still using the original Station Launcher).
Less data gets patched (smarter differentials between versions).
A general aesthetic upgrade.

Many of you will have questions. We've tried to answer as many of those questions as possible in this FAQ: http://www.everquest2.com/news/read/current/5047.

The goal here is that you won't have to do anything at all. Just use your launcher normally and the upgrade will happen without you having to do anything other than point the new launcher at your game directory's current location. Everything else is automatic. You will not need to install game assets again. The only change will be to the launcher itself.

For more information, see the Upgrading to the New Launchpad Walkthrough. However, this update is mandatory. After this update there will no longer be multiple versions of our LaunchPad available. We'll all be using the same one from now on.

Keep an eye out for more articles this week as well. There's going to be a barrage of new information coming your way! These really are exciting times for EverQuest II!

–Dave "SmokeJumper" Georgeson
EverQuest II Executive Producer
EQ2Wire Commentary
If you've ever said the following quote, it looks like that day has arrived:
"They can take away my original EQ2 launcher when they pull it from my cold, dead fingers."
We are concerned that Launchpad 4 has not undergone any user testing, yet is being pushed as the mandatory patcher for all players tomorrow. To date, every launcher, despite lengthy Beta test periods, has had bugs. We are more concerned about all of these features which are present in Station Launcher and which are inaccessible from the new Launchpad:
Voice (Vivox) chat outside of EQ2
Text/Guild chat outside of EQ2
Character Select
Friends list
Patch Notes
Automatic Unattended Updates
If you are wondering how we got here, there's a discussion from March of this year which explains the LP1-LP3 -> LP4 transition. It doesn't help explain why we lost all the above features though.
Tags: game update 62, launcher
Trackback from your site.