EverQuest II: Age of Discovery — 2 Months To Go?
NOTE: This article contains no new information since August's SOE Fan Faire 2011 event, but since these questions have been coming up more and more frequently, I thought I'd do a recap.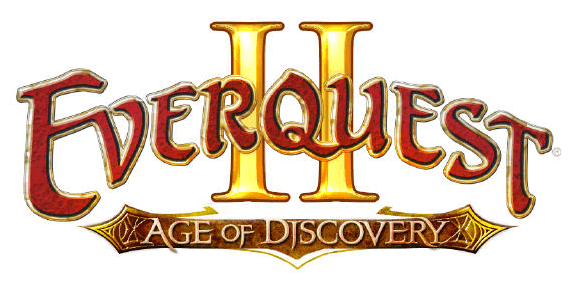 EverQuest II: Age of Discovery
With its promise of new features rather than new content, EverQuest II's eighth expansion has the makings of an atypical release. EverQuest II: Age of Discovery is touted to have:
Beastlords — The most frequently requested feature of EQ1 arrives with the Beastlord class. The 25th class will wear

Brawler

equipment but otherwise have an archetype of Scout. Will have a separate AA tree for their pet.
Mercenaries — NPCs which can be hired to assist in questing, groups, and raids
Tradeskill Apprentices — Little is known about these, but they

use a new crafting table type

and offer unique new recipes.
Design Your Own Dungeon — Based on an updated version of the housing system, players can build dungeons using existing Zone styles, placing Items and Mobs picked up from around Norrath. They can then publish their Dungeon for others to play *using avatar NPCs* (you may not use your own character to run a DYOD). Rewards include gear for your main character, or items which can be used to build your own Design Your Own Dungeons.
Item Reforging — Reshuffle some (but not all) of the stats on your items. You'll also gain an in-game Particle Effect

editor

.
EverQuest II: Age of Discovery Will Not Have
Overland Zones/Dungeons/Raids — Age of Discovery is not a new area of the game, so will not contain any new overland zones or instances.
Level Cap Raise — We've heard from more than one developer that raising the level cap of EQ2 will require substantial reworking of game mechanics and thus is not part of the short-term plans for the game.
Wait a minute! What about "Velious Part 2″? When do we get the rest of Velious?
It turns out that EverQuest II: Age of Discovery will be a totally optional features expansion.
Whether you buy Age of Discovery or not, we have been promised new Velious content including Overland Zones, Group Instances, and Raids well into 2013.
Game Update 62, which is free to all players and coincides with the November 2011 release of Age of Discovery, will give all players the revamped City of Freeport which combines the current North, South, East, and West Freeport, has a new look, will be flyable, and will have all new quests from level 1-30, as well as followup quests throughout levels 30-90.
Game Update 65 64, expected next summer, specificallyAugust 2012, will do the same for the City of Qeynos.
Game Update 63 (February April 2012) and Game Update 64 (May 2012) will continue the Velious storyline, introducing new Overland Zones, Dungeons, and likely Raids. We've been told to expect dragons, lots of dragons.
When does EQ2: Age of Discovery get released?
With three of EverQuest II's seven expansions falling on the third or fourth Tuesday of November, we are speculating that, barring any rescheduling, Age of Discovery will arrive on either Tuesday, November 15th, 2011, or Tuesday, November 22nd, 2011. These dates peg us at either 7 1/2 or 8 1/2 weeks away from the new release.
How much will EQ2: Age of Discovery cost?
We honestly don't know. Destiny of Velious was $40 with a $70 digital collector's edition, but we can't make ANY assumptions at this point.
When do we Beta Test?
In the private testing forum (visible only if you have a character on Test and have been flagged correctly on the forums to see it), SmokeJumper strongly suggested that there is displeasure with how the current Test and Beta Test processes are conducted and that we might see some kind of rethinking of this arrangement in the future, including a "full time Beta test server".
I feel that much of the blame for disinterest in Testing falls squarely on the shoulders of the EQ2 mechanics team for minimal communication during the Velious Beta and almost complete abandonment of the Test forum during the first 7 weeks of the Reitemization of Game Update 61.
At this point, we don't know if there even WILL be a private (Non Disclosure Agreement) Age of Discovery Beta, or if these features will simply go to Test or a revamped public Beta server for a few weeks before going Live.
Your Thoughts
Will you buy the Age of Discovery expansion?
Is it too much to ask to pay for 2 expansions in 1 year, even if the second one is largely optional?
Do you consider Age of Discovery a truly optional expansion considering it will increase the Alternate Advancement pool?
What Age of Discovery feature are you most looking forward to?
Trackback from your site.