SOE Authenticators Now Available for $9.95
SOE Security Authenticators are now available from SOE.com for $9.95 including domestic shipping and handling. They may be used on one or more Station accounts.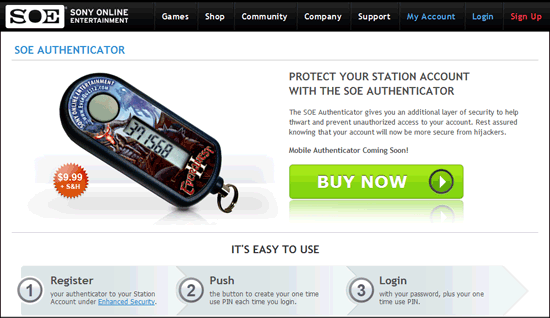 Pricing compares favorably to the WoW Battle.net security fobs which cost $6.50 plus shipping. Plus, you may use one SOE Authenticator on multiple Station accounts, a feature the Battle.net devices lack as of October 2010.
Note: Only after entering your credit card information does international shipping or handling rates appear. We've seen several reports that international shipping is more expensive than the security fob itself. In the range of $10-13 US, 10 Euros, $13 AUD, etc.
There is no word on when the announced free SOE Authenticator apps for iPhone, Android, and possibly other platforms will appear.
Check out our detailed guide SOE Puts Security in your Pocket — Vasco Security Fobs which we posted on July 11th.
Tags: account security, security
Trackback from your site.