New Mounts Leap and Glide into EQ2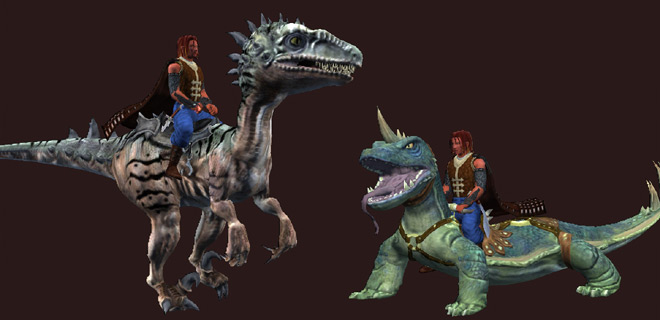 Leapers and Gliders have come to EQ2 as per Today's Update Notes., taking advantage of a tremendous effort by the EQ2 animators and programmers to allow mounts to be more quickly added to the game. With the "killer app" of flying mounts at level 86, we've been wondering if something would be done about the hodgepodge array of mounts at lower levels. During the week where we could have free flying mounts on all our characters, I certainly took the opportunity to knock out a bunch of quests that would have easily taken twice as long to complete on foot.
Leapers and Gliders
So let's take a look at the new mounts.
As previously reported, Leapers are mounts which are able to jump very high, and glide for a reasonable distance. They are available at level 30 via either an Adventure or Tradeskill quest, or via the Marketplace. Gliders are mounts which are able to not only jump a remarkable height, but then glide a great distance, possibly across entire zones. They are available at level 60, also via either Adventure or Tradeskill quests.
What's important to note here is that unlike the 5 day "waiting period" for flying mounts, Leaper and Glider mounts can be acquired through a quest that only takes about 20 minutes.
The Leaper mount quest is given in the Butcherblock Mountains not too far from the Griffon Tower at the top of the ramp. The Adventure version of the quest awards a Scaled Mountain Saliraptor (Sali- is a latin prefix meaning to spring or leap forward). The Tradeskill version of the quest awards a Horned Mountain Saliraptor. The astoundingly fast Cyliena already has Quest Writeups for the Leaper mounts at EQ2 ZAM.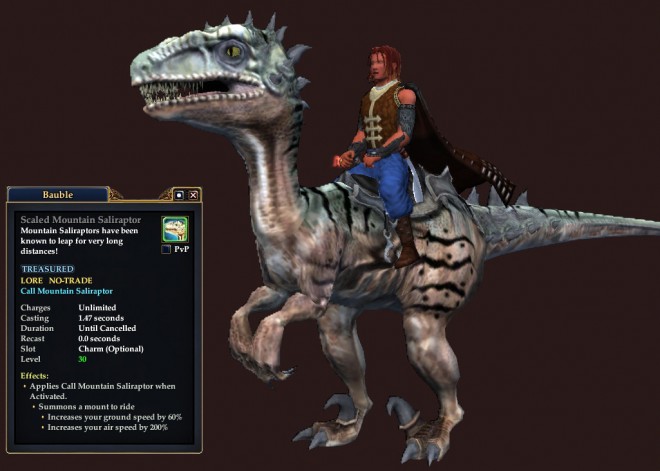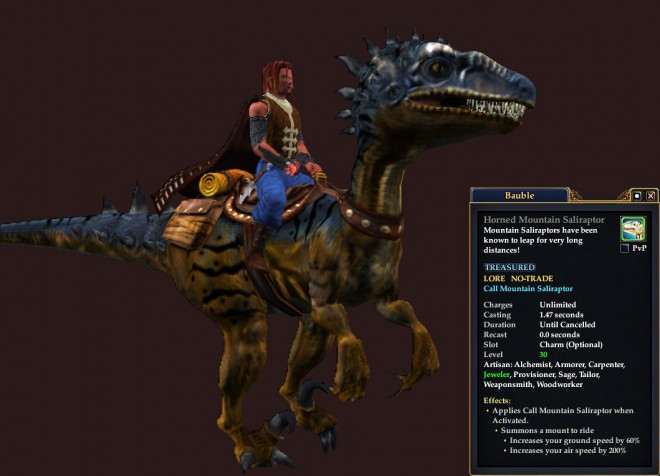 Leaper Mount (Butcherblock Mountains) @ level 30:
Adventurers: Saldas Rubbleground
Tradeskillers: Ellerith Groundspark
The Glider mount meanwhile is given in Tenebrous Tangle at the Breeding Grounds. The Adventure quest awards a Tamed Wind Komodo. The Tradeskill quest awards a Bridled Wind Komodo. Quest Writeups for the Glider Mount quests are already online courtesy Cyliena of EQ2 ZAM.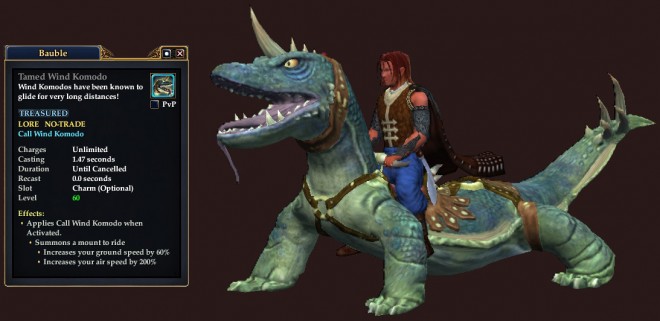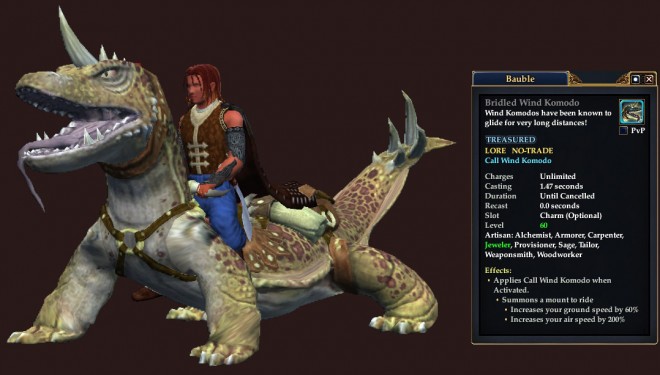 Glider Mount (Tenebrous Tangle) @ level 60:
Adventurers: Ferwah Shieldwall
Tradeskillers: Darga Fleetpaw
StationCash Mounts
If questing for a mount, even a short20 minute quest as these, puts a cramp in your style, or you want to have something "Premium", look no further than the StationCash Marketplace. At press time, there are two Leaper mounts available for 1950SC ($19.50).
Personally, I think this is one case where the in-game quested mounts got the better end of the deal looks-wise, but taste is just that, personal, and no doubt the StationCash versions will fly off the shelves!
Tags: flying mounts
Trackback from your site.