Dethdlr's Dungeon: So Long Longarm

A Bow to Pull With
Any good plate tank needs a good pulling bow.  You know, one that can hit mobs from way across the room.  You may not use it all the time, but you at least have it on your hot bar.  They come in handy for all sorts of things.  Once you've used one with an extra long range, it's hard to go back to using anything else.  They even make questing easier since you can hit the mobs from so far away (less running around).
Old Faithful: Longarm
Up until Sentinel's Fate, the best bow for the job was the Longarm.  This item drops in Deathfist Citadel and can be equiped at level 39.  It has a rating of 42.6 but has a range of 4-50 meters.  Get yourself some arrows that add +5 meters and you can hit targets from 55 meters away.  55 meters!  That's 60 yards!  Over half a football field!
As the levels went by and the expansions came out, a lot of us looked for an item to replace our trusty Longarm.  But there just wasn't anything out there with that kind of range.  Until Sentinel's Fate.
There's a New Kid in Town
When Sentinel's Fate launched it included the rodent caves in Sundered Frontier.  Inside these caves, either through traveling a long way through them, or by jumping off a cliff to get to the back door (much easier), there is a Roekillik named Ritsy.  If you've finished A Rodent Problem in Paineel, Ritsy will give you the quest Ritsy Delivery which is the first quest in The Bow of Underfoot Timeline.
Ritsy Delivery has you kill a courier in the area.
Ritsy Business has you kill Toxxulia Guardians for 15 common drop items.
Ritsy Rewards is a bit more complex.  You have to kill 5 named mobs, clear The Hole: Demitrik's Bastion, then return and kill Ritsy.  Note: Anyone who is in your group when you kill Ritsy can loot the quest starter for the final quest in the series, whether they've done the first three quests for not. 
The final quest in the series is called Ritsy's Lucky String.  For this quest, you have to go a little ways into Spirit's Resonance and kill two golems in the first room, kill the named gorgon bull handler in The Hole, then clear The Outer Vault and Spirit's Resonance. 
Now, in order to make it though this questline, you have to speak Serilian which is kind of a pain but well worth the effort.  Once you've completed the quest line, you are rewarded with The Bow of Underfoot.  It has the same range as the Longarm (4-50 meters) but this one hits like a truck with a rating of 151.1!  It also has an AoE damage proc (could get you in trouble so be aware of it) and some pretty decent stats.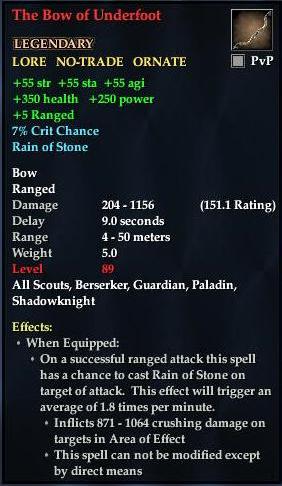 So Long Longarm
So after all these years, I'm finally placing my Longarm in the bank.  It has served me so well these many years that I just can't bring myself to sell or transmute it.  The Bow of the Underfoot is the new king of bows for pulling on a plate tank and I'm sure we'll have many good years together.  Maybe someday there will be another one, even greater.  When that day comes, I'll place The Bow of Underfoot next to my Longarm in the bank to keep it company.  🙂
Tags: Longarm, The Bow of Underfoot
Trackback from your site.