Random Photos.. and Othmir illusion?
While I'm working on getting my own photos posted…
Billy!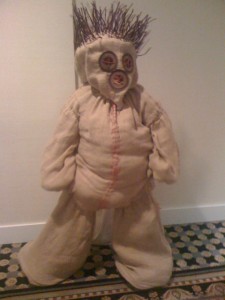 [Rystall] Costume contest winner "Billy"!!!
Epic Fan Faire Moment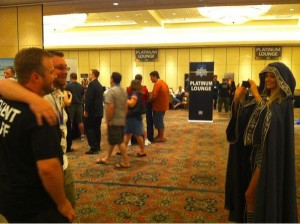 EQ2 player asks for the model to take a picture of him and Greg "Rothgar" Spence.
Othmir?
Tom Tobey, Senior Animator on EQ2, did let us know that although there are no plans to add Othmir as a fully animated playable race, due to the need to add 500~1,000 animations for each race, it is very likely that it will be available as an illusion. But don't expect your Othmir monk to be fully animated. EQ2 Forums
EQ2Wire Brings News of EQNext
We have been linked by Massively, Joystiq, and other sites for our breaking news coverage of EQNext including in-game screen shots. My notes during these panels have been quick, and as a result, there was some confusion about whether these were in-game screen shots and whether this would be both a PC and PS3 game. I can tell you there were 2 in-game screen shots shown each day, and this will be both a PC and PS3 game built on a new engine that scales depending on the power of your computer.
Trackback from your site.