Dethdlr's Dungeon: Balancing EQ2X with EQII Live

Fan Faire is now over and one thing seems to be clear: SOE does not have a plan to balance the new players coming into the game between EQ2X and EQII Live, at least not one they are willing to share with us… 
They keep giving the same basic answer: We'll adjust on the fly.  Here is what they're trying to balance: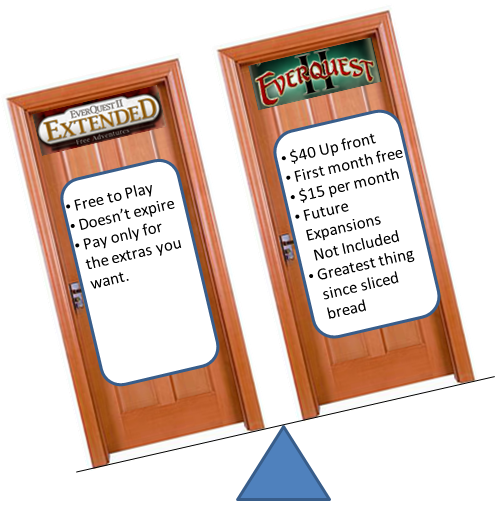 Which door do you think new players are going to go through?
They keep saying that if too many new people choose EQ2X, they'll add more incentives to EQII to balance it out. Problem is, what could they possibly add to EQII to make it more desirable for a new player than the free choice of EQ2X?
With the removal of the 14 day trial, nobody in their right mind is going to TRY the $40 option when the FREE option is sitting right there next to it, just a click away. And once they get themselves established on EQ2X, they're not going to want to leave their new home to go over to EQII. It doesn't matter what incentives they put on the $40 option, people are going to TRY the free option instead. What on earth do they think they can add to the EQII side to make a NEW PLAYER want to TRY the $40 option instead of the FREE one?
We keep getting twisted logic out of SOE. Here are the latest "facts" on the subject we've been presented with:
A. Lots of people played the free trial
B. Very few people signed up after trying the free trial
C. The begining levels have a very high learning curve and need revised
D. The UI needs an overhaul to make it easier for new players
So, they go and fix C and D. This would lead any logical person to believe that those changes would have a favorable impact on B. Will it? We will never know because when C and D hit the live servers, they're turning off the free trial!
It's like saying that a restarant is failing because of the paint job on the front door. So to prove this fact, they change the menu, furnature, cooks, wait staff, and management and then re-paint the front door. When the restarant starts doing good they say "See, that paint job on the door really turned this place around!"
So lets assume for the moment that SOE actually does have a plan behind all this and do some speculation on why they are doing what they are doing.  I'll give you a minute to stop laughing…
Ok, done laughing?  Let's proceed…
(Begin speculation)
EQII was headed down hill for a while.  Sentinel's Fate(SF) came out which caused a short spike in subscriptions but research showed that most of them were old players returning anyway and not actual new players.  Once the newness of SF wore off and people had done most of the heroic content, subscriptions started falling off again.  Basically, attrition was begining to take it's toll without much hope of turning things around.  How do you convince NEW players to try a 6 year old game?  How do you convince people who have tried the game with the 14 day trial to come back and try it again?  Tell them that THIS TIME it will be better?  Tell them that for the last 6 years the new player experience has been kind of lacking but that we finally figured that out and fixed it?  How do you build an advertising campaign around the concept of "we've had our head up our arse for the last 6 years, but we're doing much better now"?  Tough to convince people to try the game based on that.
So what COULD they have done?  As I said above, they could have fixed the new player experience and let players do the 14 day trial again.  But that wouldn't have driven new players to try out the game.  It would have just kept more of the people who were trying the 14 day trial already.  It MIGHT have been enough to turn things around but we all know, EQII isn't really out there in the stores or on people's minds as something they want to try.  So what could they do to try and convince NEW players to try the game?  Enter EQ2 Extended (EQ2X).
Announcing EQ2X got EQ2 back in the press.  It got some buzz started about a 6 year old game.  It's most likely going to draw in NEW players to try out the game and probably bring back some that tried the 14 day trial and didn't subscribe.  So, with all the buzz about EQ2X bringing people in to try things out, why not give them the choice of the 14 day trial for EQII or the Free EQ2X?  They claim it's because it would be confusing but what if it's because they don't really want people limited to 14 days to get hooked? 
They're convinced that they can't do F2P without RMT so at least for the time being, they don't want F2P on the EQII Live servers.  But they want to bring in new players and get them hooked on the game even if it takes them a few months of free play to get addicted.
Short term, they're allowing copies over to the EQ2X servers but not transfers.  This could be to save EQII from a mass exodus of characters over to the EQ2X servers while still allowing people to copy over to try it out.
It's possible that they DO have a plan but it's one they can't tell us about because it doesn't sound good at all.  It goes something like this:
1. EQII was in a downward spiral and death was only a matter of time. (Remember the downsizing that just happened?)
2. Put in F2P called EQ2X with all sorts of restrictions
3. Draw in lots of new players to EQ2X and get them hooked
4. Over time, make EQII more desirable for the players that get hooked
5. Cancel the copy ability and allow transfers so that EQ2X becomes the trial that will feed EQII
6. Even though the flow from EQ2X to EQII will be small, it will still be bigger than the flow was before EQ2X and will be enough to stop the eventual death of EQII.
If this IS their game plan, they can't really tell us.  As a company, you don't want to tell your customers that their game on life support and it's only a matter of time before it dies.  You also don't want to tell your NEW customers that you are trying to get them hooked and make them spend money on things they don't need, in the hopes that eventually they will realize that and move over to EQII.
OR, they may think that the players will be split and we will eventually end up with half EQII servers and half EQ2X servers.  Some have said that the quote from Fan Faire was a bit off and that SmokeJumper was saying that maybe EQII would end up being the place to be for raiding, not EQ2X.  That would at least explain why people would re-roll and move from EQ2X over to EQII: Raiding.
(End Speculation)
All signs point to the fact that SmokeJumper is convinced that this is a good idea and that it won't mean the death of the EQII Live servers.  What we don't know though is if we were already heading towards eventual death before EQ2X came out.  Maybe this is like chemotherapy.  We weren't going to make it the way things were going so we're trying this experimental treatment.  Short term, it may look like we're getting worse but long term, we may end up making a full recovery. 
I don't agree with the approach that's being taken, but it's likely that I don't have all the facts either.  If I had all the facts, I might come to the same decision, I don't know.  I guess all we can do is wait and see.  Hopefully this will end up being good for all of us.  I just hope SmokeJumper is in for the long haul and doesn't jump ship.  If this is in fact a long term plan, we need him to stick around and see it through.  I've got my fingers crossed.  I guess only time will tell.
Trackback from your site.