Battlegrounds Now Available on Test Copy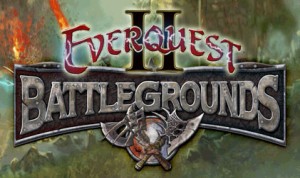 As of 3:15pm PST (6:15pm EST), the Test Copy server is being rebooted for testing Battlegrounds. From the EQ2 Forums:
Battlegrounds are up on Test and Test-Copy!! Teams who win their matches between 5 and 8pm PST every day that the BG's are up for testing will get an awesome battlegrounds cloak for their characters!

As a special Battlegrounds event, several members of the SOE staff will be available for match-ups on Thursday, February 11th from 4 until 6pm PST.

Our SOE teams will play anyone who wants to challenge us and (if you beat us!) the winners will receive a special in-game title after the event!

So make sure you head on over to Test and Test-Copy to practice and we'll see you Thursday!!
and this:
Battlegrounds have been activated on the Test Copy server and we'd like to see people starting to join as soon as possible.

We will be re-enabling the /testcopy command today, so if you aren't on this server, go ahead and queue yourself up.

We expect a lot of people requesting a copy, so it might take a little time to get everyone moved over.

Expect bugs and expect crashes so if you notice something out-of-place please report it to us using the /bug or /feedback command.

To access battlegrounds, press Alt-Z (the old Zone Reuse window). The first tab should allow you to select a match and queue yourself or your group.
Battlegrounds Discussion on EQ2 Forums!
NOTE: Some players are reporting crashes with EQ2Maps and Battlegrounds. For the time being you may need to uninstall EQ2Maps and use the default UI.

Tags: battlegrounds
Trackback from your site.