New Guild Hall Amenities – Standard Bearer & Wizard Spire
While we don't have all the details on what perks will be available to Guilds reaching the new level 90 cap, we know that Game Update #55 will add 2 new Guild Hall Amenities.
The first is pretty straightforward. It's a Wizard Portal NPC with all the destinations available from the Ulteran Spires. It does not include the Kingdom of Sky zones of Tenebrous Tangle, Barren Sky, or Bonemire: Realm of Dawn. You'll still need that amenity if your guildies are making regular use of these zones.
The second new Guild Hall Amenity is the Guild Standard Bearer. If you've ever been on a group or raid and just didn't have the right setup. If only you had a little more oomph, more defensive stats, more DPS, etc. you could clear the zone and claim your reward.
The Guild Standard Bearer is a bit like a vending machine, selling (at a steep platinum cost) zonewide buffs to your allies within a group or raid instance. No doubt there will be more items added to this amenity over time.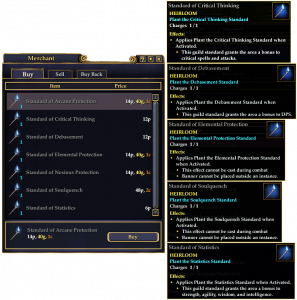 Guild Standard (Click to Enlarge)
Updated Notes from Beta (added Friday, Feb 5th)
These are only usable in Instances.
They are not usable in Battlegrounds.
We can expect more Standards to be added.
Only one can be active inside a group dungeon or raid zone.
Hopefully before Sentinel's Fate launches, the descriptions for these items will contain specific numbers such as amounts of bonuses, etc.
Tags: game update 55, guild hall amenities, guild standard
Trackback from your site.