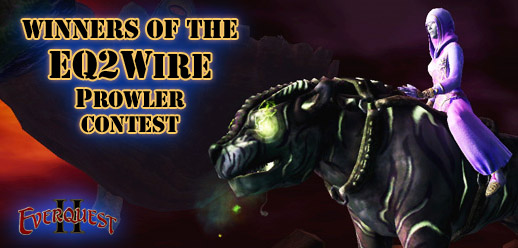 When are we going to quit slacking and announce the winners of the EQ2Wire Prowler Contest?
HOW ABOUT NOW?

The Contest
A trainer of mounted cats recently lost his head about the prospects of limitless wealth and ice (for iced tea naturally) in New Halas and so packed up overnight, leaving behind a manor full of trained battle cats — and no forwarding address.
We have managed to procure five of these highly prized felines and now need to find homes for them.
The Winners
"Slippery Slope"
"Socks"
"Shadow Hunter"
"Yoguart"
"Twisted Mentat" for Schrödinger!
The winners have been notified by e-mail. If I do not hear back from them for 72 hours, an alternate will be awarded.