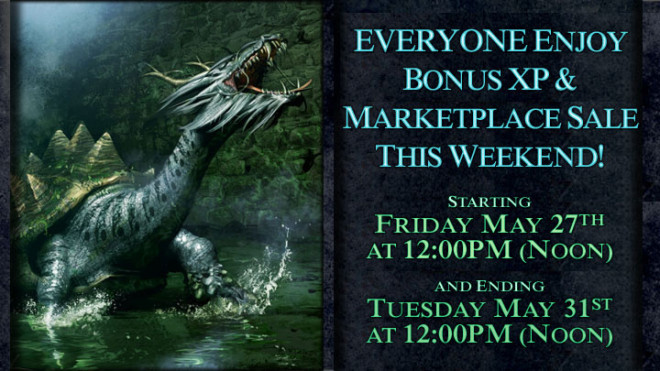 From EverQuest2.com:
Norrathians – are you ready to take advantage of everything this long weekend has to offer?

Beginning at Noon PDT on Friday, May 27, 2016 and continuing until Noon PDT on Tuesday, May 31, 2016, All Access members will receive double XP (Adventure, Tradeskill, and AA)!

Plus, as an added bonus, All Access members will also receive 40% off all marketplace purchases, so pick up those items you've been eyeing before the discount ends!

Not an All Access member yet? With bonuses, discounts, access to new content, and more, there's never been a better time to join!
Time Zone Conversions
PDT: Friday May 27 @ Noon — Tuesday May 31 @ Noon
EDT: Friday May 27 @ 3:00pm — Tuesday May 31 @ 3:00pm
BST: Friday May 27 @ 20:00 — Tuesday May 31 @ 20:00
CET: Friday May 27 @ 21:00 — Tuesday May 31 @ 21:00