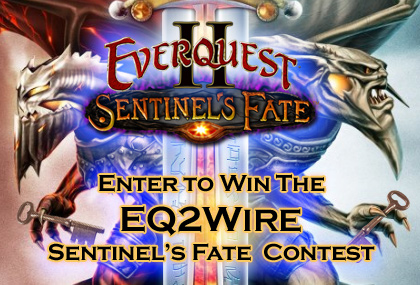 When I launched EQ2Wire at the August 2008 Fan Faire, I had no idea that we would become a popular destination for (nearly daily) EQ2 News and Commentary. And so it is an interesting coincidence that the release of Sentinel's Fate will mark the 18 month anniversary of EQ2Wire. What better way to celebrate than to give away Sentinel's Fate Retail keys to our readers?
Contest Concludes
The EQ2Wire Sentinel's Fate Contest concluded on February 16th. We awarded 10 Retail and 2 Collector's Edition product keys!
Terms and Conditions
There were 10 first prizes and 2 grand prizes. The first prizes are Sentinel's Fate retail edition product keys. The grand prizes are Sentinel's Fate collector's edition product keys. Digital purchase only. No physical box will be shipped. Winners are entitled to the product key assets only. Prize has no cash value.
One entry was accepted per day.
This contest was valid for any country except where prohibited by law (I think that's just North Korea, sorry Kim Jong-il). Supported languages: English, French, German.
We are not responsible for winning e-mails being rejected, returned, or lost in transit. If a winning e-mail is bounced, we reserve the right to award the product key to an alternate. We reserve the right to verify e-mail addresses by contacting contestants as well as Sony Online Entertainment with your submitted information.
Contestants may only win once during the contest period.
If there is a conflict or indication of anything hinky with the entries, we may make substitutions. All decisions regarding this contest are final.
EQ2Wire Contest WINNERS
Retail – February 11th
Retail – February 12th
Retail – February 13th
Retail – February 14th
Retail – February 15th

Collector's Edition  – GRAND PRIZE – February 15th