EQ2 Producer Brenlo has Twittered a couple of interesting sneak peaks into the future of EQ2.
New Dance Moves
First up, if you've been thinking that what Barbarians really need is some new dance moves, you might enjoy this new video. No word on when we can expect Guitar Hero: EverQuest edition.

New Barbarian dance on YouTube
You can safely infer that since this dance is specific to male Barbarians, that EQ2 is getting a bunch of new dances unique to male and female members of each race. I wonder if they will all be pop culture references.

Quest Helper
And if you have been longing for the Quest Helper window that other MMOs have been enjoying, you'll be thrilled to know that a Quest Helper is now coming to EQ2 as well. Check out all those stacked up quests on the right side.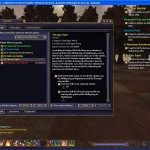 It is unknown if this will be part of Game Update 54 or Game Update 55/Sentinel's Fate in February.
Speaking of Game Update 54, it should be going on Test Server soon enough, and we'll have those notes for you as soon as possible.