On Beta: Mercenary Unlocks — Gotta Collect Em All!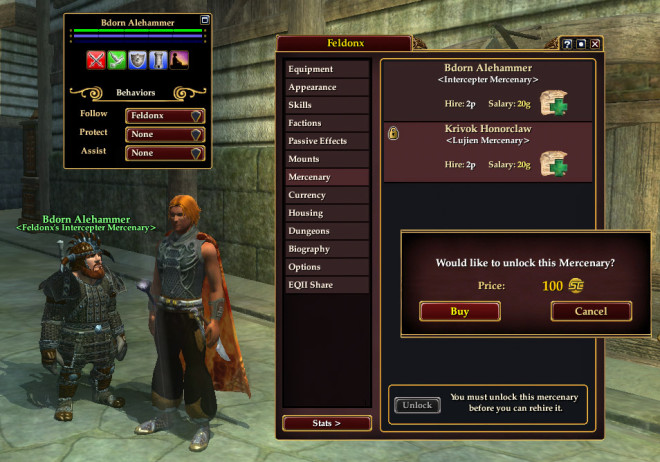 At SOE Live this year, the ability to store Mercenaries on EQ2 characters was announced to deafening applause. The feature was reconfirmed in an October Producer letter. So when Tears of Veeshan beta opened, players quickly found the new interface allowing them to store Mercenaries, along with a few surprises in the implementation (and cost) which have spawned a multi-page discussion.
IMPORTANT NOTE: This is a BETA feature and as such may change between now and live, so readers should not make any assumptions about pricing, etc. until Tears of Veeshan launches on November 12th.
NOTE: The Mercenary window has been substantially upgraded since this screenshot was taken.
Nothing in Life is Free
First up, Mercenary Unlocks are not free. Mercenary Unlocks are currently priced at 100SC ($1) each. When they first appeared on Beta, they were set to 250SC each, so pricing is subject to change before launch.
What's the difference between Unlocks and Slots?
With Mercenary Unlocks as currently implemented, the Merc window displays a list of every Merc you've encountered and presents the option to permanently Unlock them one-by-one.
For someone who's been lucky enough to track down some of the rarer mercs like Kenny, Matri Dut, or Perrin Wanderhoof, or any of the Ancient or Looted Mercenaries in Skyshrine or Chains of Eternity zones, and who wants the security of always being able to summon them any time, then a Mercenary Unlock will be exactly what you want, and they're dead easy to use.
Do you need to unlock every merc? Not at all. If you don't mind returning to your home city to hire the more common mercs and are only concerned about stashing rare ones, then Unlocks offer a reasonable cost for convenience.
Who Could Pay More?
Players who situationally rotate between several mercs depending on the needs of different instances may end up needing to unlock quite a few mercs, costing them more than a Mercenary Slots system. With Slots, they'd be able to manage their costs by choosing just the right mercs needed for a gameplay session. One drawback to Slots is, players need to manage their posse of Mercs through some kind of Load/Save interface. Unlocks are a much simpler system to use and explain.
This Week on Mercbusters!
Q: Does this mean Mercs cost 250SC or 100SC each time you want to hire them?
A: No! Unlocks are a totally optional convenience feature allowing players to have the game permanently "remember" certain Mercs they want to always be able to Hire without having to go find them again in a home city (or camping overland zones for weeks/months).
Q: Wasn't this announced as part of the expansion/update?
A: At the SOE Live keynote, Holly announced: "And as part of our free live content, finally, we're giving you mercenary slots." In the October producer's letter, Holly reiterated : "And as part of our content update available to everyone, we're adding Mercenary slots and the Tier 4 Guild Hall too!".
An Example of how Merc Unlocks Work
Senya Shadowbone of the Crushbone server has posted a detailed explanation of how the Merc Unlocks system works:
It's not really a "slot". You can always run to town and hire any merc you want for no station cash. It's the switching between mercs that you've ever hired that runs into alot of station cash. For the record I think it's a really poor implementation but I'm going to try and explain it as best I can.

You have Stamper already (no station cash charge)
You find Matri up so you opt to hire her (no station cash charge)
You need a healer merc for something so you want to switch back to Stamper instead of keeping Matri. You have 2 choices here:

You can go back to where Stamper hangs out to rehire him for no station cash.
You can rehire him directly from the merc tab with an unlock for 250sc.

Now you want Matri back. You again have 2 choices here.

You can wait to find her up again and rehire her for no station cash (not really much of an option).
You can rehire her directly from the merc tab with an unlock for 250sc.

So now you have unlocked Stamper and Matri. You can switch between Stamper and Matri from the merc tab at any time and it won't cost you any more station cash.

But now let's say you find Kenny up and hire Kenny.
You are in an instance and don't need a healer. You decide you want to use a different merc besides Kenny. You can now:

Switch from Kenny to Matri from the merc tab (no unlock because Matri has already been unlocked)
Switch from Kenny to Stamper from the merc tab (no unlock because Stamper has already been unlocked)

So now you have Matri back, but you need a healer. Since Kenny is the elite merc you prefer to use Kenny.

You can switch to Stamper from the merc tab (no unlock, Stamper has been unlocked already)
You can switch to Kenny from the merc tab (250sc – Kenny has not been unlocked yet).
Lyndro has chimed in with his explanation for why an Unlock system was implemented:
The reason why we went with individual merc unlocks instead of slot unlocks is that it would have been very difficult for you to decide which merc went into which slot, and you would have to (potentially) unlock many slots in order to get to the merc that you actually wanted. Let me explain. There are 5 mercs: Mike, Sally, Timmy, and Lucy. Right now, you can individually unlock Mike and Lucy, and Mike and Lucy are always available to you. You don't have to pay SC or go back to town to switch to use them once they are unlocked. If you decide that you want to run with Timmy then you need to unlock him as well, but then he's yours and you can switch between the 3 whenever you want.

When we started working on this as a slot system like is being suggested, the system got terribly convoluted. So you start with 1 slot and you hire Mike. Now Mike is in your first slot. Then you go and hire Lucy. Now Lucy is in your first slot and Mike is in your second slot. So you have access to Lucy and Mike just like you have access to them in the current system. However once you hire Sally, Sally goes into slot 1, Lucy goes to slot 2 and Mike goes to slot 3. In order for you to hire Mike again, even though you could access him without returning to town a moment ago, you need to either unlock slot 3. Now that may not be so bad, because you could always return to town to get Mike back into slot 1 (And move Lucy to slot 3). However say that Mike is a rare merc that you spent some time camping. Now the only way for you to get Mike back into slot 1 is for you to camp Mike and get him again. With the current system, every mercenary that you hire after it launches is going to be available to you, if you choose it to be.
Could a Slot System Work?
As someone who thinks a lot about User Interface design, I've thought about how a Slot system could work, allowing players to manage their own mercs in 1, 2, or more slots. I created these mockups not knowing if this is possible with the game's UI architecture:
With a slot system, whenever you hired or summoned your active merc, you'd be able to pull down a menu in the Merc window and choose to "write" or "save" that Merc to one of your paid-for Merc Slots. On the positive side, this would allow players to manage their own slots. On the negative side, it would be possible to overwrite a rare elite merc which may have taken weeks/months to acquire.
Trackback from your site.