EQ2U Adds Proc/Effect & Adornment Report
There could be a hidden danger lurking on your character…
A tragic mistake that could be costing your character dearly…
CONFLICTING PROCS !

Many Procs/Effects in EQ2 will not stack with other procs of the same name (or same type) on other items or adornments. In the past, it has been difficult to find out if you have two or more of these overlapping procs/effects which aren't giving you any additional benefit.
EQ2U's new Procs & Adornments Report feature lets you see at-a-glance, which Procs you have (both on items and adornments), as well browse your complete Adornments list. In both views, the columns are clickable, allowing you to sort by different data points.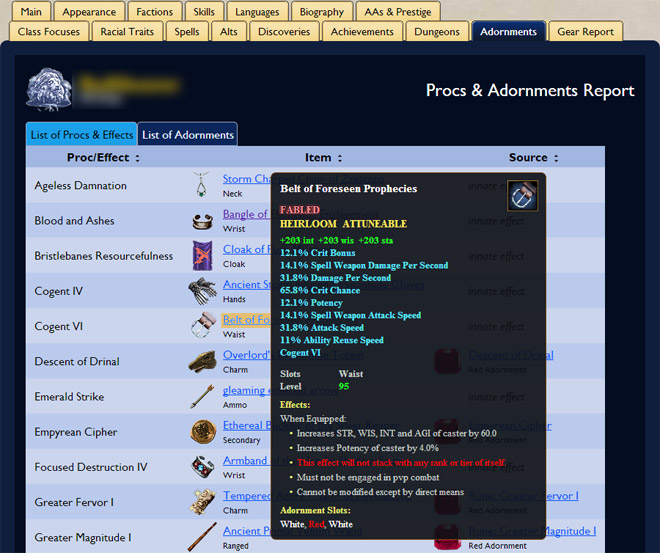 NOTE: Sometimes procs can conflict even though they have entirely different names. This is something that is intended to be cleaned up in the expansion, with all procs of the same "family" being labeled the same name, with roman numerals indicating power.
after the jump, a few words about the future…
Feedback
As always, Dethdlr and I appreciate any and all feedback you may have about existing and new features we're working on for EQ2U. This Proc/Adornment report was Dethdlr's idea, and I just added the styling to it.
More Data…
More Data? Thursday's layoffs literally came on the same day we were supposed to get Quest, Recipe, Collection data. Loot/Treasure Tables are frustratingly close to completion as well. I can only imagine that the EQ2 team will be regrouping over the weekend and into the next week, but once the dust settles, I hope that we can get this data in the near future.
Adornment Calculator?
It is still my intention to integrate our Adornment Calculator into EQ2U, so that your items and adornments pre-populate, rather than having to choose these items manually. It's not a trivial script to integrate, but I've got some mockups that I've been hammering on so hopefully we'll see this sooner rather than later.
Trackback from your site.