Alternate Advancement Profiles Come to EQ2U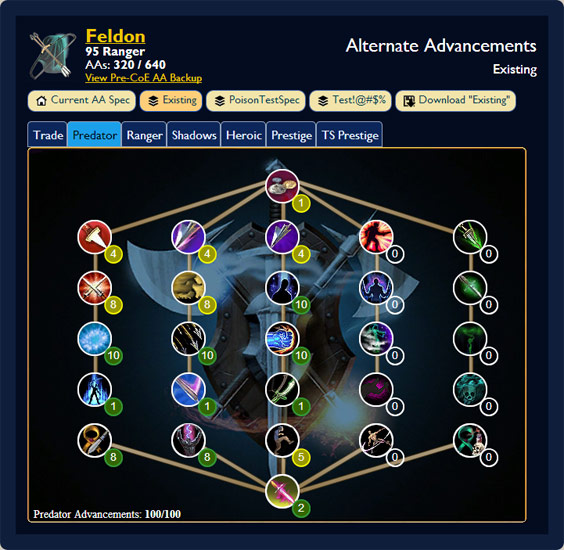 Dethdlr and I are thrilled to introduce support for Alternate Advancement Profiles to EQ2U. The new row of buttons just above your AA tabs let you view your Current AA Spec or view the contents of one of your three Stored profiles:

It's important to note that your Current AA Spec can either be one of your Stored AA profiles, or a Server-defined Template. It is our intention in a future update (once we get the right data) to light up your currently active Stored profile once we can determine it.
Download Your AA Spec!
What we're even more excited about than being able to view the Stored AA specs of your characters and those of your friends and guildmates is the ability to Save an AA spec to your hard drive and then login to EQ2 and load it onto one of your characters!
When viewing a Stored AA profile, an additional button will appear on the right allowing you to Download that spec. If you click that button, a prompt should appear to download a file Charactername_Specname.aa (ie Feldon_existing.aa). Save this file into your EverQuest II directory and the next time you fire up EQ2, you'll be able to load that spec.
While logged into EQ2, open your Alternate Advancement window, ensure you are not in Build mode, and then pull down the popup menu in the upper right corner of the AA window and choose "Load…":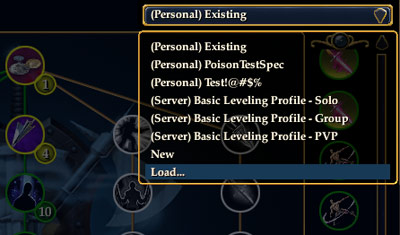 You will then see a list of all saved AA profiles on your hard drive in your EverQuest II folder: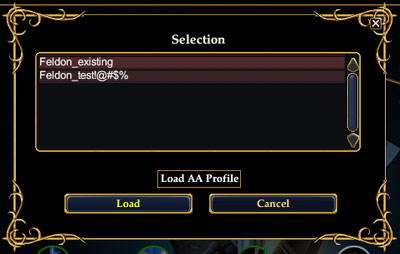 Trackback from your site.