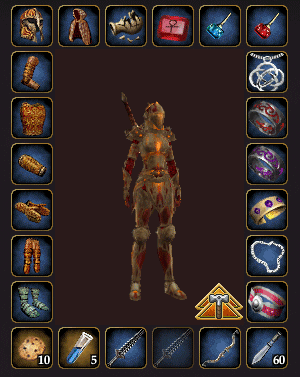 There are a lot of StationCash items in EQ2, and the question on the EQ2 team's mind is: Are people not buying 'service' items because they don't want them, or because they can't find them?
To find the answer to that question, next week we'll see the [eq2u]Forgiveness Potion[/eq2u] disappear from the Marketplace and in its place, a button directly in the Character window and all Menders that allows you to repair your equipment right on the spot for StationCash.
As you can see in the screenshot above, the Point of Need button appears in the lower left corner of your Character window if your equipment is below 50%. It allows you to repair your equipment immediately using StationCash.
From the EQ2 Forums:
Hello once again, travelers,

I thought I'd call out a new system on Test as of today that is our next on-demand service focused on repairing items.

These small interface additions add options to repair all of your damaged equipped items for a flat rate of Station Cash. We have them in two places.

The first place you will see a new on-demand button is in the character sheet, but only if your gear is damaged 50% or more. This button appears as a small icon to the bottom right of where your character's paperdoll is shown (opposite where the Overflow icon is placed).

Also, on NPCs and objects that provide repair services, you will find a new button to Repair All items for a flat rate of Station Cash.

We decided to offer these Repair options given that we already had a "Forgiveness Potion" on our marketplace that repairs equipped items and removes XP debt, but it is somewhat hidden and not well described. We want to make our current services easier to use if players choose to use them.

That in mind, we expect if these new additions are ready they will go live on Tuesday next week, March 19. At the same time, the Forgiveness Potion will be removed from the marketplace so this is effectively the last week we will sell it. We will be creating a potion for the marketplace that removes XP debt, though.

We encourage players to help us test these new options and appreciate that doing it may cause loss of character life. It's for a good cause!

Holly Longdale
Producer, EQII

34 Comments