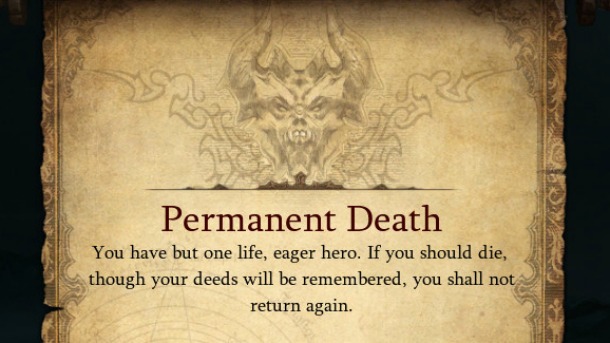 In a "we hope he's just trolling or talking about one isolated server" tweet, SOE President John Smedley teased this about EQNext:
We like permadeath for EQN

— John Smedley (@j_smedley) March 6, 2013
It's one thing for a heavily PvP Combat-based game to have Permadeath. It is quite another for a game where characters are developed over years, have houses and guild halls full of collected riches and rewards, epic quests, and raid zones that are designed to kill players through combat mechanics. For such a game, the concept of Permadeath is nothing short of repugnant.
UPDATE from John Smedley:
In case people did not catch the sarcasm I was kidding about EQN having permadeath — John Smedley (@j_smedley) March 7, 2013

Followup conversation between Dave "SmokeJumper" Georgeson and players:
@eq2gu Nope. Not happening. Many of us here like permadeath, but no.

— David Georgeson (@Qixter) March 6, 2013
@taysa_gray @eq2gu lol. I was sitting next to him when he did it. Trust me on this one.

— David Georgeson (@Qixter) March 6, 2013
@taysa_gray @eq2gu @j_smedley John is a brilliant guy with reasons for everything he does. I'll leave it at that.

— David Georgeson (@Qixter) March 6, 2013
@cyliena @taysa_gray @eq2gu Well, it certainly ignited a lot of conversations. But no. No permadeath.

— David Georgeson (@Qixter) March 6, 2013

29 Comments